In case you have a very limited time in Saigon, you will not able to explore every facet of the uniqueness of this city,...
In case you have a very limited time in Saigon, you will not able to explore every facet of the uniqueness of this city, like lots of tourists, this complete guide of 1-day tour in Saigon like a local will definitely a genuine recommendation to you.
7.00am – 8.30am
Wake up early at 6.30, sitting in a street coffee shop to start a new day. The early morning is fresh and pleasant,  fewer vehicles on the road, softly morning sunrise, only need a cup of coffee to boost a day.
People in Saigon loves morning coffee, especially in the weekend, when they can relax after hard working days, catching up over a coffee, along with long conversations.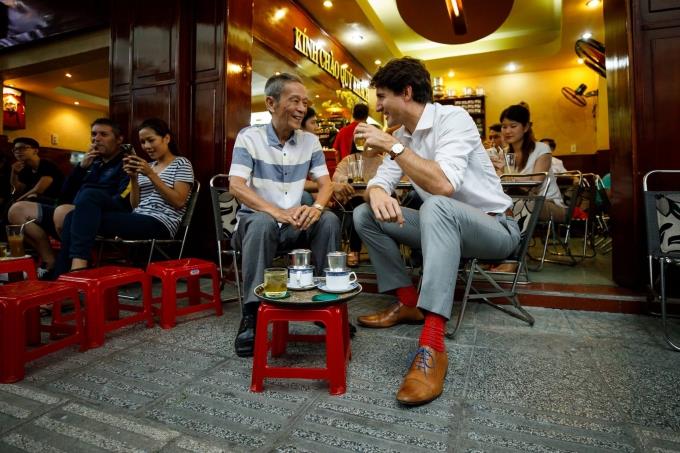 8.30am – 9.00am: Ba Ghien Broken Rice Vendor (Cơm tấm Ba Ghiền)
Time for breakfast, it must be Cơm Tấm – broken rice with grilled meat. Our top recommendation is Ba Ghien, which is located at 84 Đặng Văn Ngữ, Phú Nhuận district. This vendor was known for the history of over 20 years and huge piece of grilled pork. If you are a BBQ addict like me, this is so sexy.
9.00am – 11.00am: Emperor Jade Pagoda (Chùa Ngọc Hoàng)
It only takes you 15 minutes to Chùa Ngọc Hoàng by using motorcycle services (you can book a drive with Grab or GoViet app). The pagoda is a place of worship Jade Emperor or God of Heaven. This calming sanctuary is one of the most important shrines in Saigon. Barack Obama also visited this pagoda in his trip to HCMC.
The pagoda was well-known for blessing in fertilization. If a married couples set free a couple of  turtles into the pond of this pagoda, their wish of having a child will become true. Besides, people visits the pagoda wishing for health, love, business and luck.
11.00am – 12.00pm: Vietnam History Museum
Only 2,000vnđ, you will get a ticket to visit the ancient museum where collects and conserves thousands of artifacts of Vietnamese history since prehistoric to historic period of time. Not only see those artifacts but also able to touch them in hand. Highly recommend any tourist to set this place as a part of their Saigon trip.
12.00pm – 1.00pm
The second must-eat dish in Saigon is Phở. Phở is the national dish, it gains popularity not only domestically but also worldwide. The quality of a bowl of Phở is depended on its broth rich in umami flavor.
If you have ever tried both Phở in Saigon and Hanoi, you could find the traditional Vietnamese food cooked differently in each region. Find out the differences in our "Saigon Pho vs. Hanoi Pho?" topic.
Here are our top 5 recommendations:
PHỞ PHÚ VƯƠNG
Address: 339 Le Van Sy Street, Tan Binh District [MAP]
Opening hours: 7am-1pm & 4.30pm-9.30pm
Price: 65,000vnđ ($3)
PHỞ LỆ
Address: 413 – 415 Nguyen Trai Street, District 5 [MAP]
Opening hours: 4pm-10.30pm
Price: 65,000vnđ ($3)
PHỞ TÀU BAY
Address: 433-435 Ly Thai To Street, District 10 [MAP]
Opening hours: 6am-11am
Price: 60,000vnđ ($3)
PHỞ HÒA
Address: 260C Pasteur Street, District 3 [MAP]
Opening hours: 7am-10pm
Price: 80,000vnđ ($4)
PHỞ PHIÊU KÝ
Address: 21 Nguyen An Street, District 5 [MAP]
Opening hours: 1.30pm-11pm
Price: 90,000vnđ ($4.5)
1.00pm – 3.00pm: Independence Palace
One of the most interesting to see in Saigon, it used to be the headquarter for the French Indochina Governor General, Japanese Government for Indochina, and lastly the Government of the Republic of Vietnam representative – Prime Minister NGO DINH DIEM. The final attack by a couple of tanks marked an end to the Vietnam war. The conference of this palace also was held the national reunification the North and the South Vietnam.
There are tons of fascinating details of the architecture of this palace, visit once to find out them all.
3.00pm – 4.30pm: Central Post Office, Notre Dame Catheral & enjoy flat ground coffee
Central Post Office will be your next destinations. This building is gorgeous from the outside and when you enter inside is like you travel in time. Very retro looking with lots of old phone cabinets. You can buy postcards, sit on the old desk to write your messages and then you can post them right there.
Next to the post office is another must-see attraction – the Saigon Notre-Dame Basilica. The Catheral has been a symbol of Saigon since 1880. It still retains the French-influenced beauty 140 years ago. This attraction received hundreds of local people as well as tourist to discover the true soul of the city everyday. Unfortunately, the Catheral is currenly under maintenance.
4.30pm – 5.30pm: Turtle Lake
Just 5 minutes walk from the Catheral, you will get to the Turtle Lake where there is no turtle now.
The origin of this name, which was known by very few local people, was a bronze turle. It listed all military and economic aid to Vietnam in the war. However, it is no longer exist after war.

Nowaday, this lake is a famous street food destination. Youngsters love gather at this location to enjoy cheap but delicious street food, there are mixed rice paper, grilled rice paper, fried corn, grilled meat ball.
If you still have time, you could visit Ben Thanh market as many tourists do, however you must be careful because this market is now almost for tourist so the average price is expensive, you can find the same products in other places but way cheaper price.
5.30pm – 6.30pm: Bitexco Financial Tower – Saigon Skydeck
Watching the amazing Saigon at 49th floor when the sun goes down, it a bit pricey (200,000vnđ) but the gorgeous 360 degree view worth it. Fortunately, you could have buy a combo ticket of  Skydeck & The World of Heineken with just 50,000vnđ more.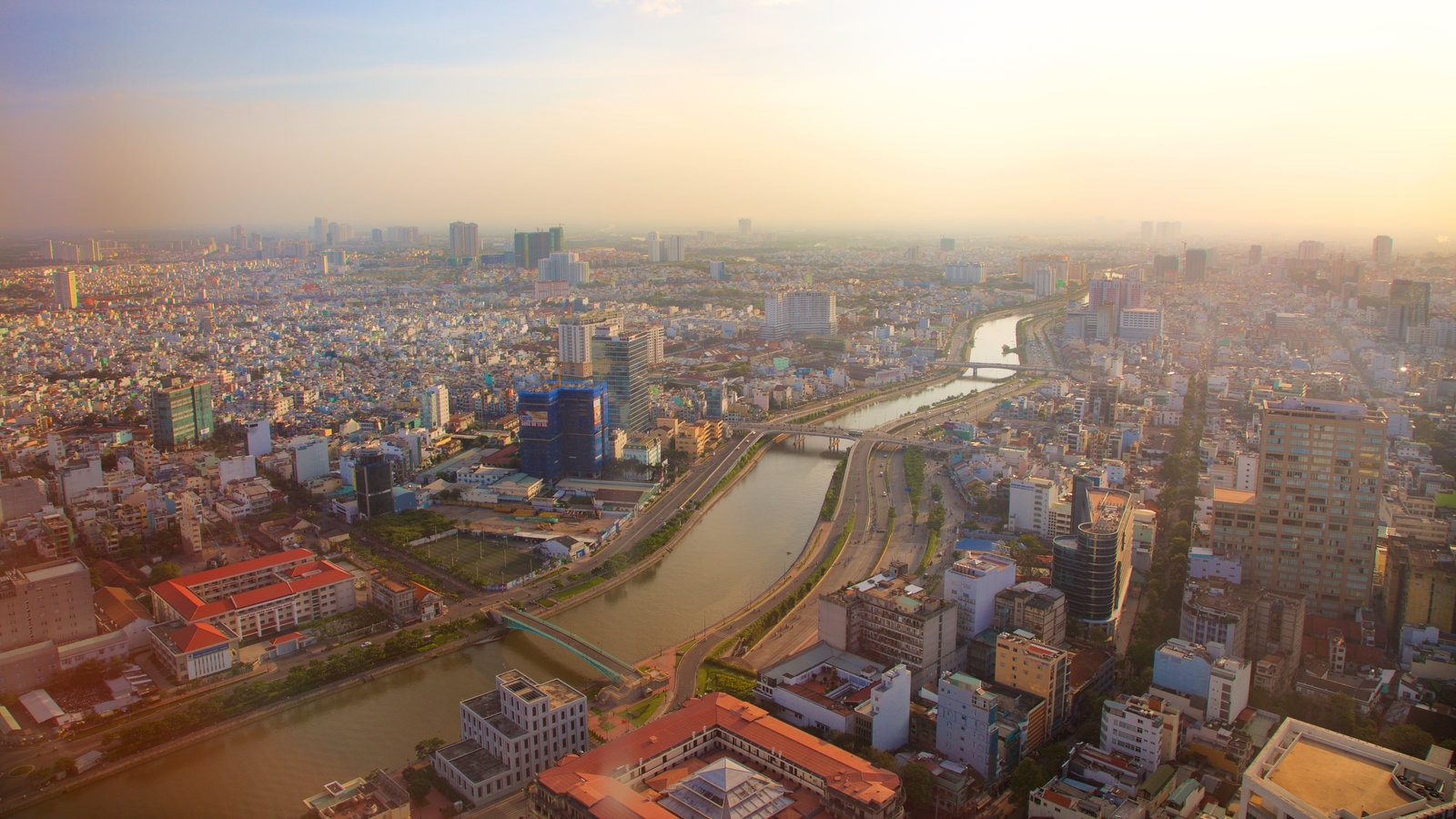 6.30pm – 8.00pm: Nguyen Hue Walking Street
This seems to be the heart of the city in the evening. Lots of events and activities are held here. There are fountains along the walk which are only activated at night. A superb place to take a leisurely stroll at night.
8.00pm – 9.30pm: DINING SEAFOOD
After hours of walking, you may now hungry. Seafood would be perfect to fill your stomach. There are so numerous varieties of seafood that you can choose  in a shop: shrimp, squid, crab, clam, cockle, blood cockle, scallop, oyster, octopus, etc. Don't forget to grab a cold beer, have fun with your friends.
Check our top 5 seafood vendor recommendations here.
9.30pm – 12.00am: Bui Vien Walking Street
It's time for party! People come here for having fun, drinking beer, listening to live music, or getting new friends. Although the price is quite expensive, the seamless exciting atmosphere along the street worth it.
Don't worry about budget,  you are capable of going to lots of places and eating plenty of local food without paying much out-of-pocket expense.
Regarding accommodations,  there are inexpensive hotels in this lovely city, we are highly recommended Beso house for your best convenience, there are 3 big sweet-scented rooms and 4-bed mixed dorm with kitchen, laundry, private key, and a friendly host who could gave you valuable advice to live in Saigon like a local.